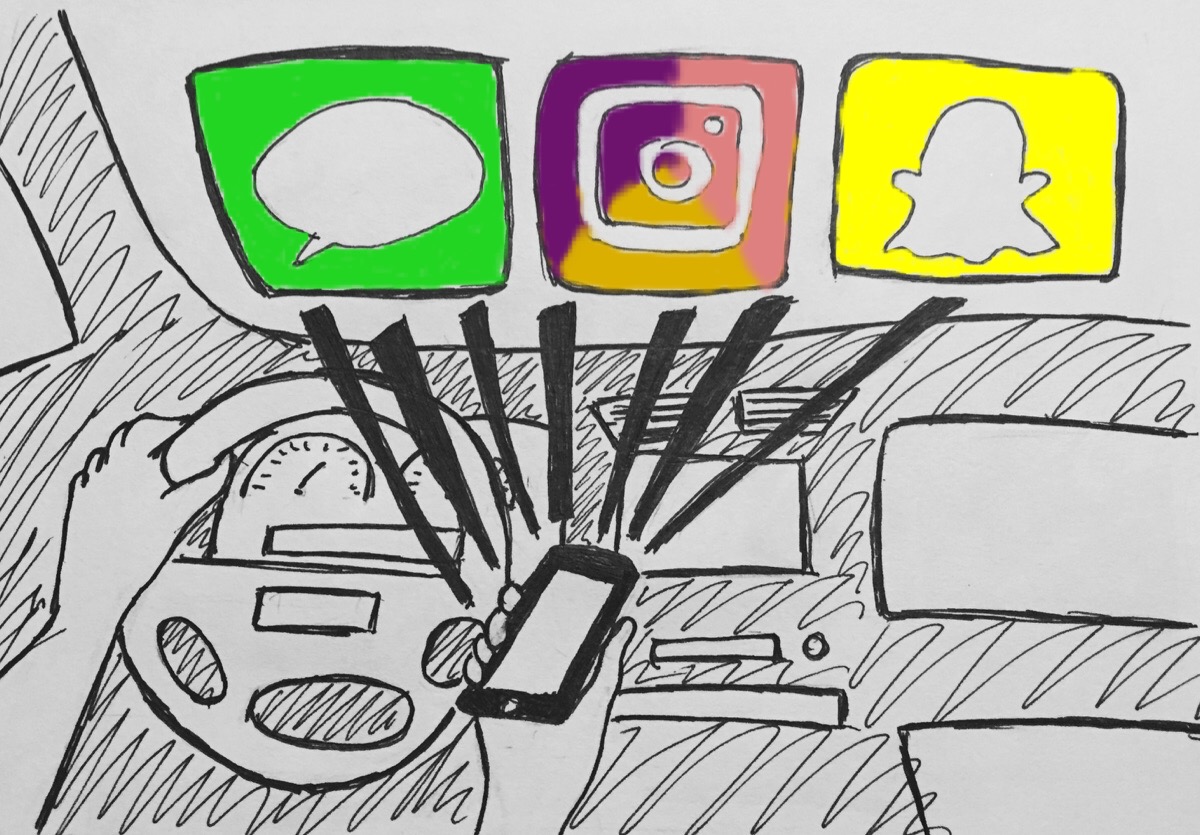 When Liz Marks was 17 years old, she crashed into a truck while texting and driving. On April 17, 2012, according to the Daily Mail, Marks collided into the back of a truck near Baltimore, Maryland, and was airlifted to the intensive care unit. Marks underwent several surgeries and then had to relearn simple functions, such as talking and chewing. Not only is Marks now blind in her left eye, but she also cannot smell, hear well or fall asleep naturally. The most critical side effect to Marks, however, was the loss of all of her friends.
Her friends had graduated and moved on with their lives, leaving Marks behind due to her health problems. Marks now uses her experience to warn others of the consequences of texting while driving.
The issue of texting and driving has become worse over the years due to the lack of awareness of its consequences. Although several laws prohibit the use of a hand-held cellphone while operating a vehicle, it has not stopped drivers from using not only the texting function on their phone but also other social media to communicate while operating.
Texting and driving is a much bigger issue than many may realize. Every second about 660,000 drivers avert their eyes from the road and to their phones in an attempt to communicate. According to CSG Knowledge Center, texting and driving is six times more likely to end in a vehicle accident than driving under the influence and leads to about 1.6 million vehicle collisions a year.
So why is texting and driving so dangerous? On average, texting and driving turns drivers' eyes away from the road for about five seconds. Now, this may seem like an insignificant amount of time, but if a driver is traveling at about 55 mph, in five seconds they have covered an area about the size of a football field with the equivalent of having a blindfold on.
Texting while driving averts the driver's eyes and removes the driver's hands as well, leading to less control over the moving vehicle's operations. Therefore, not only are drivers not looking at the road, but they also have less control over the vehicle and are unfocused.
According to CBS News, on Aug. 16, 2010, Beverly Hills plastic surgeon Dr. Frank Ryan, distracted by his phone, drove off of the Pacific Coast Highway and died. Ryan was famous for doing 10 surgical procedures at once on reality TV star Heidi Montag. Before the crash, Ryan was tweeting a picture of his dog, Jill, with the caption, "Border collie Jill surveying the view from atop the sand dune."
The California Highway Patrol later confirmed that the crash and Ryan's subsequent death was due to an uncalculated turn, while Ryan was preoccupied with his phone.
Texting while driving is also dangerous because it affects more than just the driver. According to USA Today, on March 29, 2017, a truck driver crashed into a bus carrying church members returning from a retreat. The church bus belonged to First Baptist Church of New Braunfels, Texas, a small, close community that catered mostly to senior citizens. The truck driver was identified as Jack Dillon Young. Another driver, Jody Kuchler, was traveling behind Young at the time. Kuchler saw Young's vehicle swerve over the center line before the crash, clearly distracted from his driving. Kuchler then saw Young slam into the minibus, killing 12 people. The church community was devastated. Kuchler met Young after the crash. Young said, "I'm sorry, I'm sorry. I was texting," Kuchler said, "Son, do you know what you just did? He said, 'I'm sorry I'm sorry.' "
Twelve people died in the bus at the scene of the crash, and another passenger died in a San Antonio hospital.
Forty-six states, including Arkansas, have banned texting while driving.
The Department of Motor Vehicles' website states, "In the state of Arkansas, there is a law that prohibits the use of hand-held cell phones in school zones and highway work zones. All drivers are prohibited from text messaging, and those who violate this prohibition, face fines of up to $100. If you are under 18 years of age, you are not allowed to use a cell phone, be it with or without a hands-free accessory. Violators face fines of up to $50. Text messaging is prohibited for all drivers, no matter what age they are."
According to the Center for Disease Control and Pervention's website, every day in the United States, nine people are killed due to an incident involving a distracted driver. Even though it is against the law in 46 states to text while driving, people still admit to doing it.
Texting and driving is a serious problem and must be put to a stop. There are hundreds of physical and technological solutions to solve this problem, but the ultimate solution is for drivers of all ages to realize that the consequences of their actions not only affect them, but affect other drivers and pedestrians on the road.