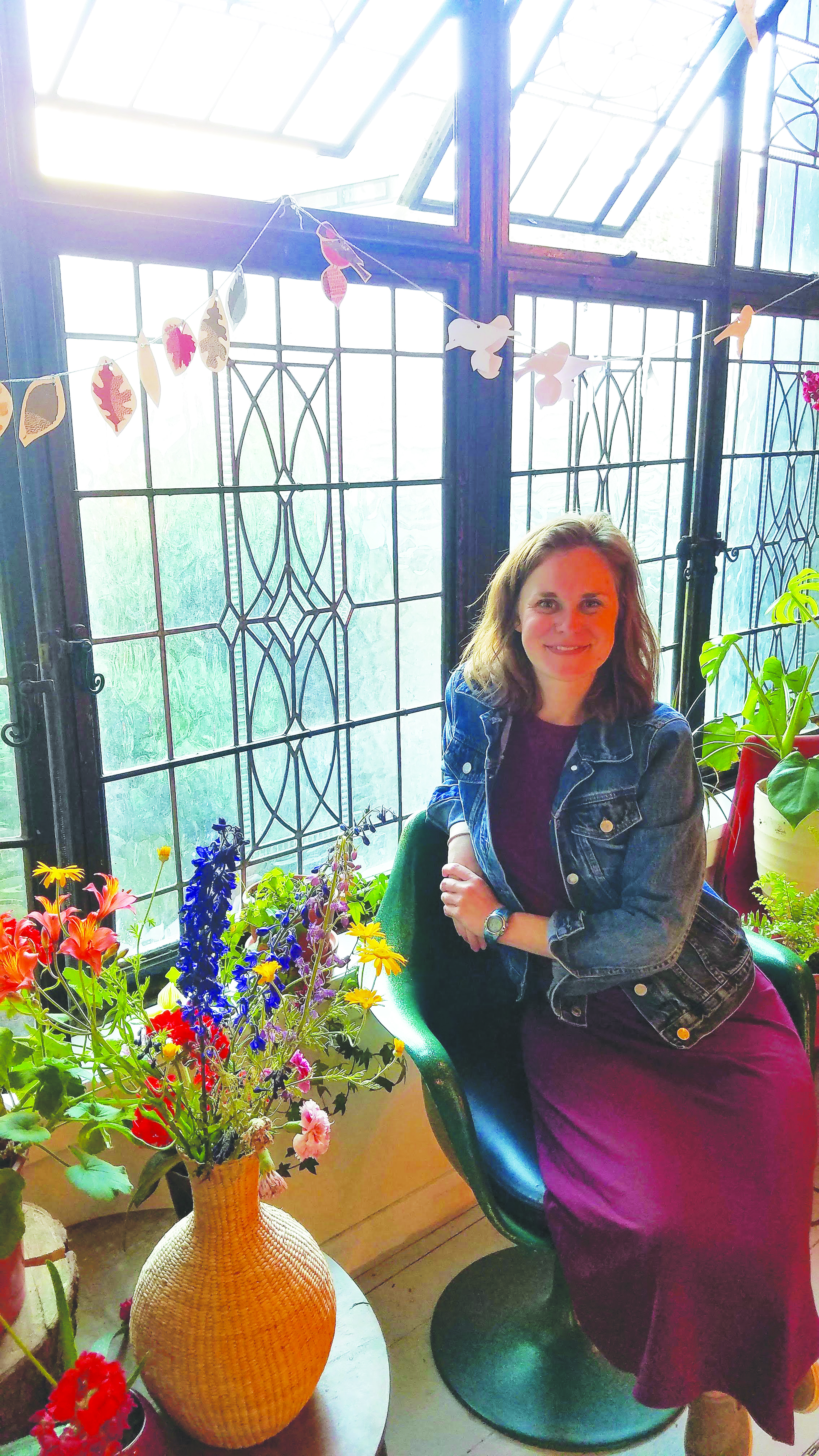 Contributed Photo
Haas Hall Fayetteville social sciences teacher Rebecca Moll sits by a window at Spoon coffee shop in Edinburgh, Scotland, where J.K. Rowling wrote some of the Harry Potter series. In the summer, Moll studied American History at the University of Edinburgh.
Summer in Scotland
Social sciences teacher studies European history firsthand
BY ALEXIS PETERSON
Staff Writer
Over the summer, Haas Hall Fayetteville social sciences teacher Rebecca Moll took a two-week trip to Scotland to attend an American History seminar by Dr. Frank Cogliano at the University of Edinburgh. Moll was applicable for this opportunity, because she won the Gilder Lehrman's Teacher of the Year Award. Two hundred teachers from across the world were nominated for this award, but only 30 were fortunate enough to win. To enter the competition, applicants must submit two lesson plans and have two letters of recommendation for judges to review.
Chloe Kilpatrick, senior at Haas Hall Fayetteville, wrote one of Moll's recommendation letters. Kilpatrick was more than willing to write it.
"Ms. Moll has been one of my favorite teachers since eighth grade," Kilpatrick said. "She cares about her students as more than just kids who need to learn economics or history. She wants her students to become lifelong learners and grow as scholars and worldly people."
Dr. Martin W. Schoppmeyer Jr., founder and superintendent of Haas Hall Academy, wrote Moll's second recommendation letter.
"Ms. Moll has been with me for 14 years. She is a phenomenal faculty member," Schoppmeyer said. "Always a go getter, she goes above and beyond everyone else. Extremely intelligent, Ms. Moll is student-focused and I think when you do those kind of things, you should get rewarded for them."
Moll received a free weeklong seminar of her choosing. She chose to go to the University of Edinburgh in Scotland, where Dr. Cogliano was giving lectures about American History, specifically about Thomas Jefferson. Moll chose to learn about Thomas Jefferson because she wanted to be stronger in American History for her students. While Moll was in Scotland, she connected with several teachers, who helped make her teaching style stronger. Moll was in Scotland for two weeks and was very pleased with her visit.
"It makes you think about your teaching a lot differently," Moll said. "It makes me work harder on my lesson plans. I have definitely grown as a teacher. People treat history like a dead science, and it's so much more than that. Going to Scotland reminded me of why I became a teacher."