CAUSE AND EFFECT
Fayetteville senior raises $25,000 for Scott Hamilton foundation
EDITOR'S NOTE: This is the first in a series highlighting girls at Haas Hall Academy who are striving to make a difference through hard work in academics, charities and athletics.
BY ALEX LIPSON
Sports Editor
Jackets were zipped up to the neck, kids huddled next to their parents for warmth and skates screeched on the ice as they came to a halt. Sophie Fernando, senior at Haas Hall Fayetteville, stood on the ice with Olympic gold medalist Scott Hamilton behind her and delivered the opening speech to the crowd of 300 people, giving insight about the event and the keynote speaker himself.
Although she has been figure skating since she was five, Fernando felt the urge to do more than just skate in her junior year. She sought a way to use her love of the sport to help others.
"Both my grandmother and great-grandmother battled breast cancer," Fernando said. "I saw an opportunity to help others, while utilizing one of my talents, and grabbed it and ran at full speed."
In the fall of 2016, Fernando brought "Sk8 to Elimin8 Cancer," part of the Scott Hamilton CARES Foundation, to Northwest Arkansas. The nationwide event is backed by organizations, such as the National Hockey League, U.S. Figure Skating and countless skating facilities across the United States. Additionally, "Sk8 to Elimin8 Cancer" is the signature fundraiser benefiting Hamilton's foundation. Hamilton, an Olympic gold medalist and world champion in figure skating for four consecutive years, is a cancer survivor. The 59-year-old began his battle with cancer in 1997 when he was diagnosed with testicular cancer and since then has developed three different brain tumors.
With hopes to help a great cause, Fernando started planning to host the first "Sk8 to Elimin8" at The Jones Center in Springdale in May 2017. In its first year, the event, which included performances from Sophie and the rest of the Ozark Figure Skating Club, along with a free skate for audience members, raised $20,000 from donations and sales from tickets that were $10 each. The Scott Hamilton CARES foundation awarded those who have raised $25,000 with a surprise appearance from Hamilton. Being so close to the $25,000 goal, Fernando and her fellow figure skaters hoped that he would come to next year's event. Still holding onto the thought of Hamilton being able to come, Fernando had a call with Hamilton's team about the upcoming event, and they informed her that Scott Hamilton would be in attendance.
Fernando held the second "Sk8 to Elimin8 Cancer" at The Jones Center on July 14.
"Raising the money and getting Hamilton to our event had been a goal for so long. It's something I had really wanted and looked forward to. So when I finally saw him walking down the hallway towards me, it set in that this was real," Fernando said.
Haas Hall Fayetteville English teacher Jennifer Ombres was in the crowd and got to hear Fernando's speech.
"I was so impressed to see one of our scholars take on such a challenge," Ombres said. "She amazed me by the way she talked in front of a large crowd, and I'm in awe of the way she uses one of her talents as a platform to give back to the community."
Hamilton asked to skate with Fernando first after all of the performances, and the two talked about her future plans, college and what she's doing in school. Eventually, everyone in attendance was invited down to the ice to skate. Hamilton gave skating tips and even told Ombres' son that he could be a figure skater, bringing a smile to his face.
Fernando raised $21,500 from this year's event, 20 percent of which is going to Arkansas Children's Northwest hospital in Springdale, with the rest to the Scott Hamilton CARES Foundation. Fernando, still fresh off of the July event, is already planning new ways to raise money and broaden the scale of people involved with the event.
In the future, Fernando hopes to plan events like these in college to help give back to a great cause and provide people with a fun experience to go along with it. She has already started planning for next summer's fundraiser and encourages all to come out to support the cause and skate.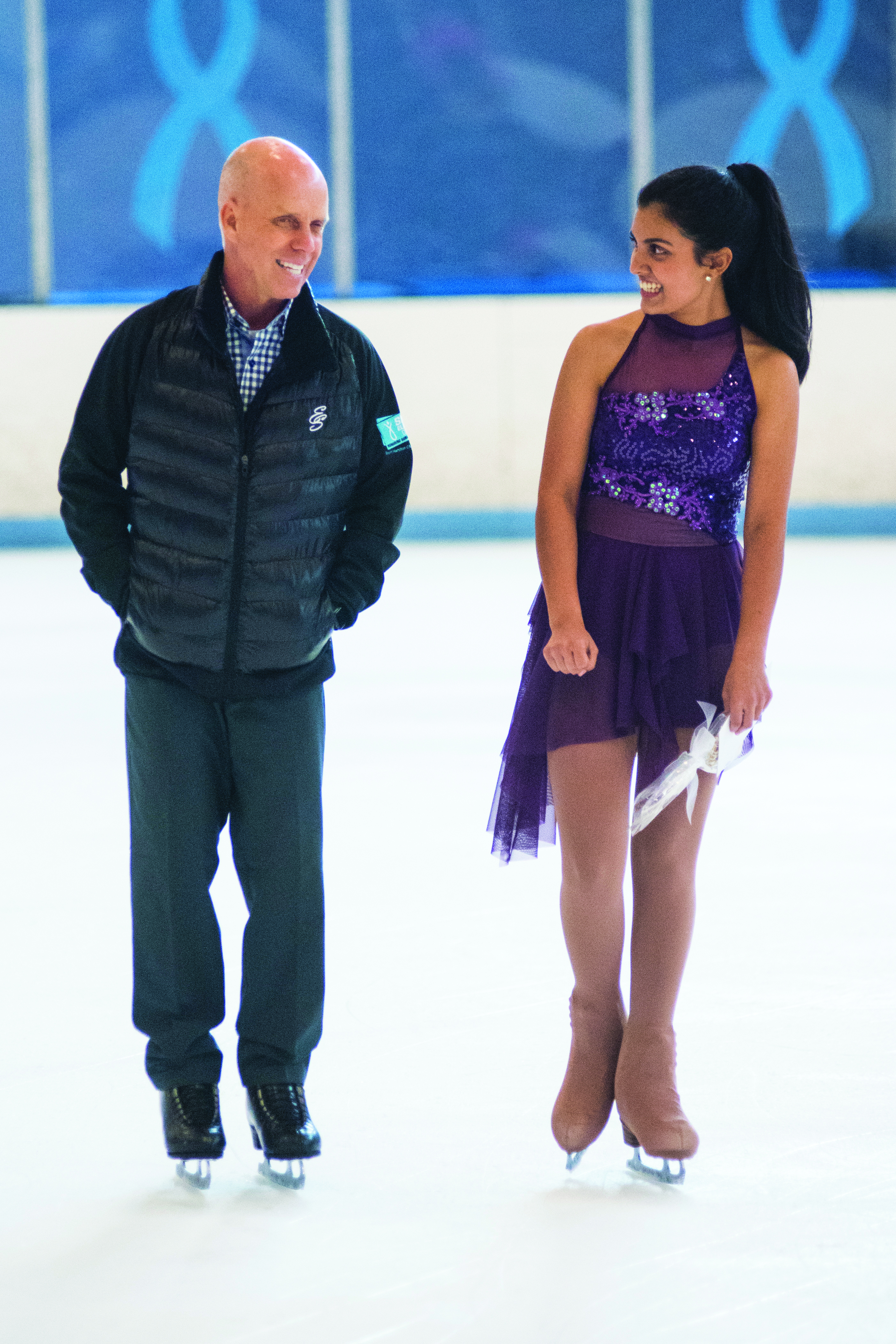 Photo by LANCE MACMASTER
After the "Sk8 to Elimin8" event, Scott Hamilton skates a lap around the rink with Haas Hall Fayetteville senior Sophie Fernando at The Jones Center in Springdale on July 14. Fernando helped raise nearly $25,000 to help fight cancer.