A Writer's Journey
Aspiring journalist hones craft at University of Oxford
BY CALEB MOORE
Staff Writer
Don't bury the lede, no Oxford commas, use direct quotes: These are important elements for every young journalism student to know. However, one hopeful young journalist took her dedication to the craft she loves to a whole new level. Haas Hall Fayetteville senior Caroline Dastugue spent four weeks of her summer at the University of Oxford, rigorously learning more about journalism, the field of study she has become passionate about since attending Haas Hall.
Dastugue has been studying journalism and related topics since she was a sophomore and has been recognized nationally for her newspaper columns. She saw this opportunity as a way to improve upon her knowledge.
"Caroline is a truly gifted writer, with a passion for journalism," Haas Hall Fayetteville journalism adviser Karen Henry said. "She started out as a reporter and quickly worked her way up to editor. She is a great leader, and she has continued to grow as a journalist year after year."
Haas Hall Fayetteville English teacher Jennifer Ombres agrees that Dastugue is a talented writer who is willing to work hard.
"She loves literature and she's a great writer," Ombres said. "She put in the work."
While in London, Dastugue constantly had her hands full. She attended class Monday through Saturday. When Dastugue wasn't studying, she was given free time that she used to practice her independence and explore parts of the United Kingdom.
"It was a really good learning experience for me," Dastugue said. "Being on my own and exploring a new city allowed me to learn more about myself. We didn't really have any rules and we had a lot of free time, so we got to explore the city a lot. It seemed everywhere we went there was something incredible."
The Oxbridge Academy also allowed Dastugue to dive deeper into the subjects she was interested in. She chose to study British literature and journalism. During her time there, Dastugue got to witness a journalist interview of JD Gordon, Trump's foreign policy advisor, by Al Jazeera's Head to Head with Mehdi Hasan.
"The interview itself was fascinating because we got to meet the producer and some of the crew behind the scenes," Dastugue said. "The way Mehdi Hasan handled the interview, the questions, and the guests were really cool to watch and made me reflect on my own journalism and interviewing skills."
One of the key pieces to Dastugue's experience was her Journalism teacher, who is a reporter at the BBC in London. This gave her and the other students a credible source.
"I got to ask him all kinds of questions about what being a journalist is like. He was a really fascinating guy," Dastugue said. "Meeting him and talking about his life made it all the more real."
The journey she got to take is a once in a lifetime deal. For Dastugue, it's also special, because she recently decided she'd like to pursue a career as a journalist. She was able to get credible information and skills that will benefit her and her future alike.
"I learned a lot about what it takes to be a journalist and different styles I can implement in my own writing," Dastugue said.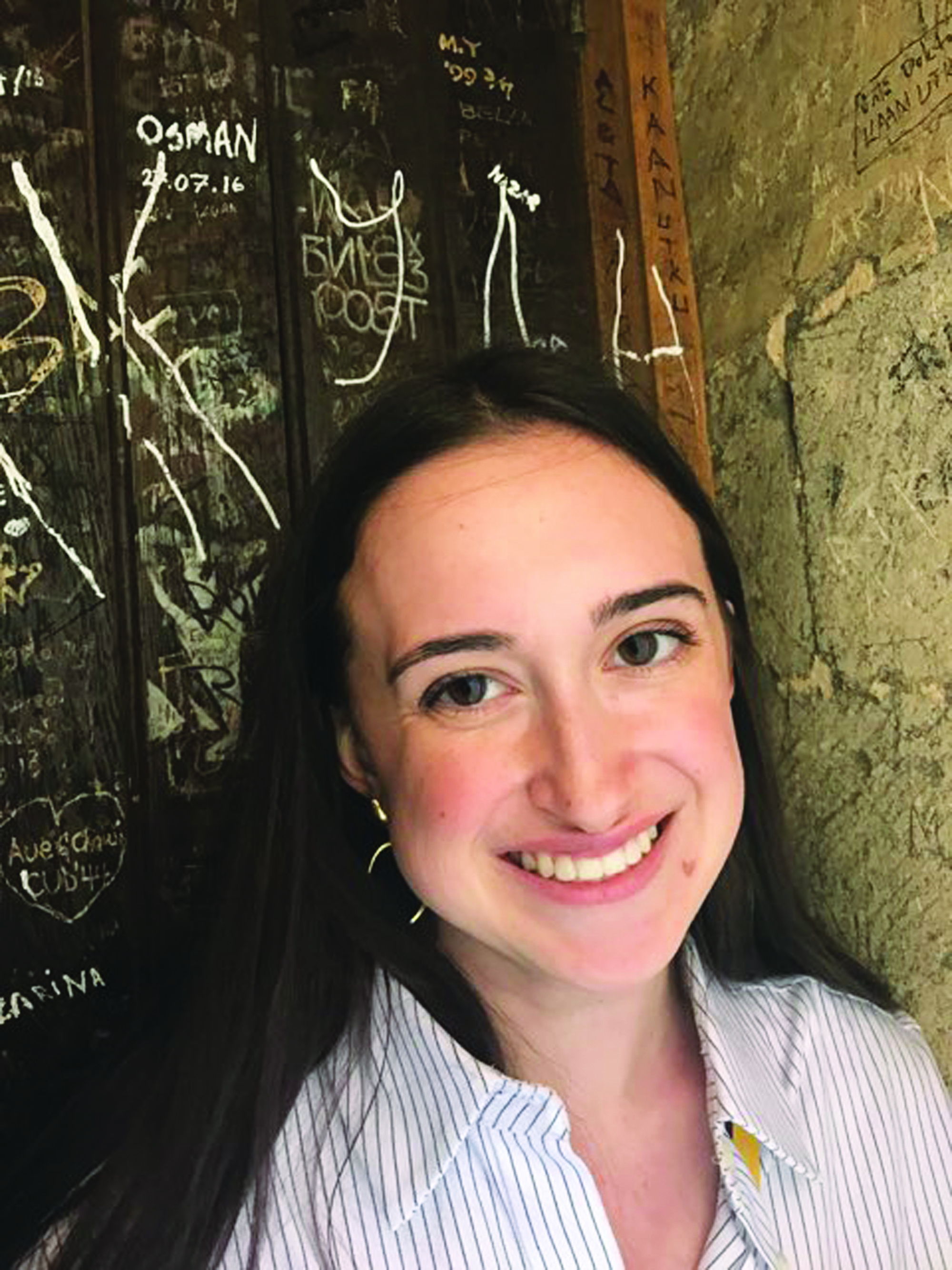 Contributed Photo
Haas Hall Academy Fayetteville senior Caroline Dastugue stands on top of a lookout at the University Church of St. Mary the Virgin in Oxford, England, on July 15. Dastugue spent four weeks at Oxford, studying journalism and literature.